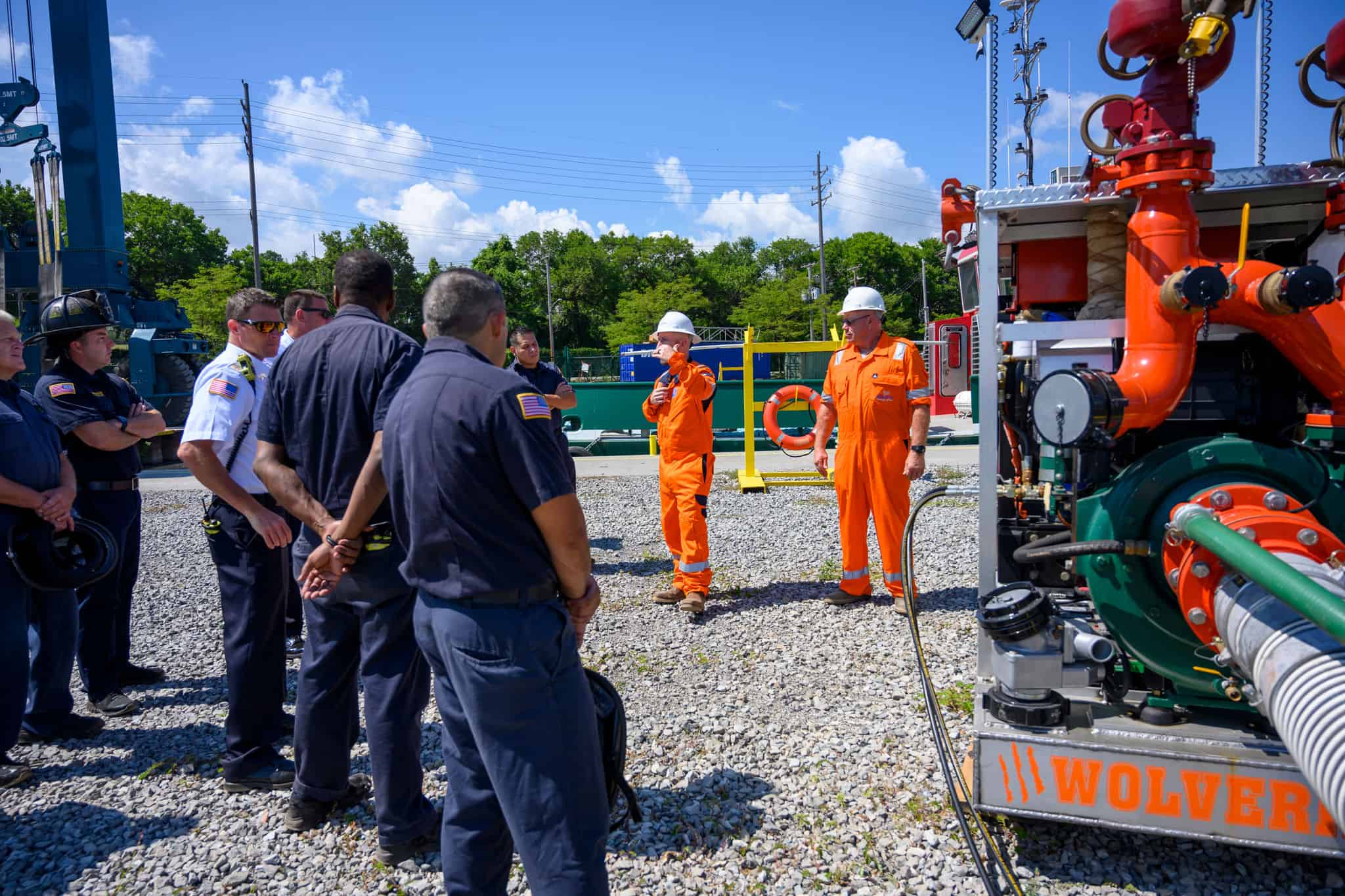 July 2022
July 14, 2022 – Fort Lauderdale, FL – Resolve Marine, a global leader in ship and vessel salvage, rescue, emergency response, and specialized marine services, hosted an open house in Cleveland, OH to demonstrate the company's salvage and marine firefighting (SMFF) capabilities in the Great Lakes region. The event included equipment displays, discussions about maritime emergencies and response, and a luncheon. Earlier this year, Resolve Marine, announced an exclusive agreement with The Great Lakes Towing Company (GLT) to provide OPA 90 SMFF services in U.S. Coast Guard (USCG) District 9.
Attending the open house were professionals interested in learning more about the marine response capabilities in the Great Lakes region that Resolve Marine and GLT provide to meet requirements under OPA 90 SMFF regulations. The event also provided an opportunity for industry partners to meet team members from the two companies, learn about available resources, discuss marine fire response tactics, tug fleet locations and facility capabilities, and to watch live demonstrations of the emergency response equipment in use. Event attendees included representatives from the USCG, vessel owner/operators, the Cleveland Fire Department, among others.
Todd Duke, general manager Compliance Services said, "At today's event, we exhibited our firefighting equipment, dewatering pumps and other response equipment that is located locally and immediately available to deploy when needed. Working together, our teams can provide comprehensive response to any marine casualty, be it a shipboard fire, grounding, or other types of incidents. In addition, and perhaps even more important, is the recognition that emergency response readiness is critical. Waiting until an incident occurs to put a plan into action is too late.  For ship owner/operators, it is just as critical to be prepared as it is to have a plan. What good is a Vessel Response Plan if the responders you depend on are not ready when you need them?  GLT's tug crews are on call 24/7 with 36 tugs stationed in 13 ports from Duluth to Buffalo."
Duke concluded, "There is no other tugboat company on the lakes with the breadth of service and level of readiness that GLT brings, and Resolve Marine is unquestionably the most experienced and prepared responder. The scale of our joint operations and inventory of response equipment available for immediate deployment, is exceptional."
# # #
About Resolve Marine
Resolve Marine is a global leader in ship and vessel salvage, rescue, emergency response, compliance, environmental mitigation, and specialized marine services. A private company established in 1984 and headquartered in Fort Lauderdale, FL, Resolve Marine has commercial offices, response warehouses and equipment depots located in the United States, Europe, Africa, and Asia. For more information, visit www.resolvemarine.com, call +1.954.764.8700 or follow us on LinkedIn and @resolvemarine on Twitter and Facebook.
About The Great Lakes Towing Company
The Great Lakes Towing Company is the largest U.S. Flag commercial tugboat operator on the Great Lakes.  The Towing Company's Lakes-wide coverage include harbor assist, cargo transportation, and ice breaking in more than 40 U.S. Great Lakes ports.  The Company's services also include a full-service shipyard operation in Cleveland, Ohio.  For more information about the Towing Company, its range of services, and its Full-Service Lakes-Wide (FSLW) Contracts, please visit www.thegreatlakesgroup.com.
Media Contact: Jennifer Schlueter, Resolve Marine Brand, Marketing & Communications
M +1.908.630.8949 or jschlueter-consultant@resolvemarine.com