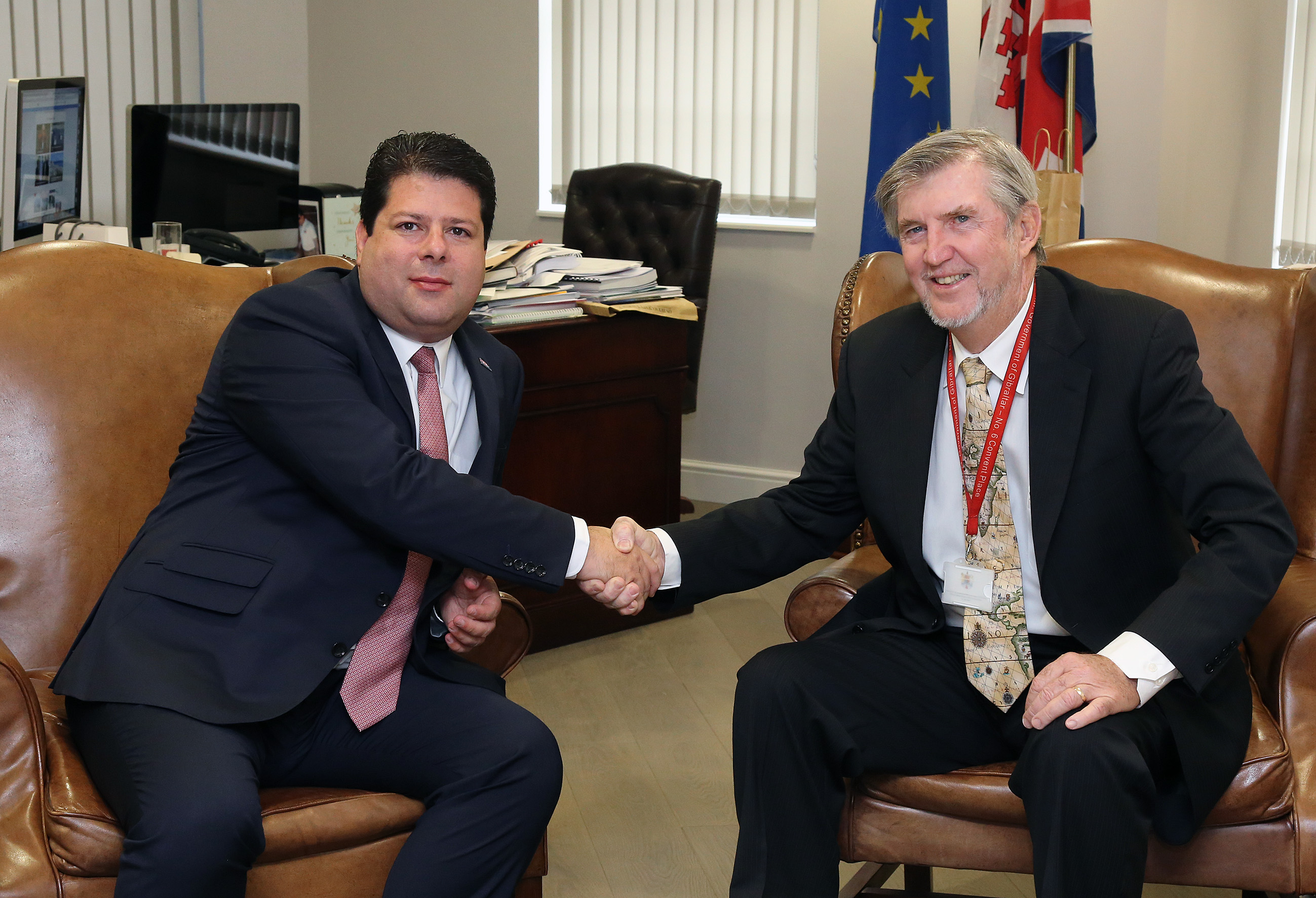 October 2015
PRESS RELEASE
Her Majesty's Government of Gibraltar welcomes the news that the Port Everglades-based Resolve Marine has been established in Gibraltar. Following an announcement that it has reached a deal to acquire SteelMac Ltd, having earlier acquired TP Towage, Resolve Marine is to be one of the largest emergency response operators in Europe and Africa.
Resolve will now immediately be able to provide first class maritime fire and emergency response capabilities, fulfilling a GSLP-LIBERAL Government manifesto commitment to the Port of Gibraltar.
The Resolve Blizzard, one of the largest emergency response tugs in the market is now based in Gibraltar, providing first class fire-fighting, oil pollution control and emergency response services for the Gibraltar maritime industry.
Another welcome development will be the future establishment of a Resolve Academy in Gibraltar. Resolve Maritime Academy was founded more than 20 years ago to serve the safety and emergency response training needs of the maritime industry and to act as a strike team to support Resolve Marine's emergency response work. To date Resolve has trained over 28,000 professional mariners and port firefighting personal.
Resolve Marine President and CEO Joe Farrell said "We are pleased to announce our forthcoming investment in Gibraltar and the development of our strategic relationship with HMGOG and are very excited about establishing a salvage station locally. Not only will it be onhand to support HMGOG and the Port Authority, we will also be responding to emergencies worldwide. Gibraltar's strategic location, stable modern governance and thriving economy are many of the benefits we have identified during our decision process."
Mr Farrell added: "We have been working very closely with the Chief Minister and his team since our initial contact meetings in the US last year to identify new and exciting projects in the Port of Gibraltar. These multimillion pound projects will not only cement Gibraltar's position as a cutting edge full service international port but will create new career opportunities and employment."
Elias Tapiero, Managing Director of Steelmac said "We are delighted. Resolve brings investment and global know-how to the table, which together with our established local reputation and infrastructure, can only benefit our community and the Port we operate in. It also enables us to further enhance the services we provide and to provide these at a global level. We are looking forward to working with HMGOG and the Ministry of the Port in developing this new pillar for Gibraltar's economy. We thank the Chief Minister and his team for the support they have provided during the last twelve months which has enabled this project to flow from a vision to a reality."
Chief Minister Fabian Picardo added: "I very much welcome this significant investment from Resolve Marine which is a huge vote of confidence in Gibraltar and in my Government's long-term economic plan to support business and create jobs by building an international port of the highest standing backed by world-class infrastructure. We are delighted to have fulfilled our manifesto commitment to enhance the towage capability of Gibraltar Port and to attract inward investment for the Port."
Note to Editors about Resolve:
Resolve Marine, Inc. is a leading marine services organization that provides salvage, emergency response, training, naval architecture and marine engineering and many other services to the global maritime industry. For more than 30 years, Resolve has served commercial shipping companies, cruise lines, the offshore oil and gas industry, marine insurers, governments, agencies and other clients worldwide.
Our services include marine salvage, emergency response and OPA-90 Salvage & Marine Firefighting, lightering, wreck removal, marine safety training, marine and salvage engineering, damage stability and many other related services. As an ISO9001 certified company, we are committed to client service, quality and safety in our work, and environmental protection.
The Resolve organization comprises four subsidiaries:
• Resolve Salvage & Fire;
• Resolve Marine Services;
• Resolve Maritime Academy, the maritime training subsidiary; and
• Resolve Engineering Group, LLC, the naval architecture and engineering group.
Resolve maintains its headquarters, operations base and Maritime Academy adjacent to Port Everglades in Fort Lauderdale, FL; a nine-acre, Gulf of Mexico port facility/operations base near Mobile, AL; a marine engineering subsidiary and an operations base in New Orleans, LA; and operations bases in Singapore, the United Kingdom and India. Shanghai Resolve- Shengmin OSRO Company (SRSOC) is Resolve's Shanghai-based joint venture and provides Level 1 Ship Pollution Response services throughout China.