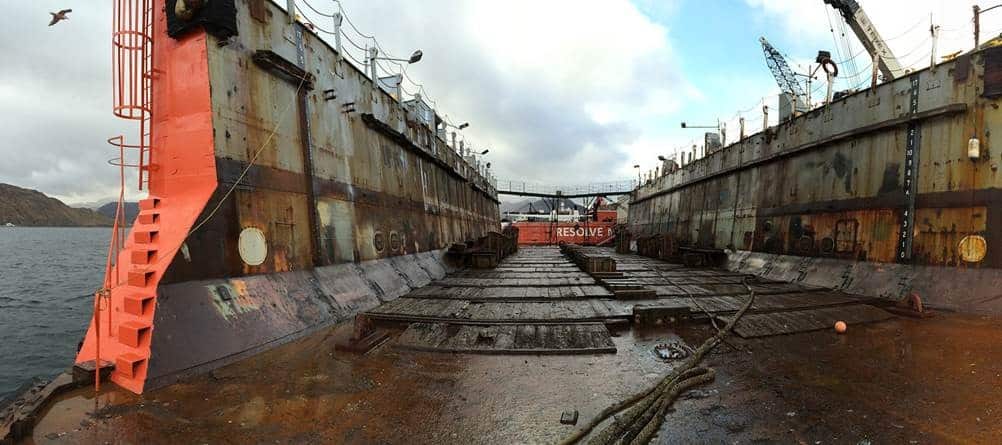 January 2022
January 10, 2022 – Dutch Harbor, AK – Resolve Alaska, the shipyard, marine services and construction, emergency response and aviation subsidiary of Resolve Marine, today announced that in 2021, the company completed a record number of drydocks. From fishing vessels and tugs to landing craft, a dozen U.S. and International flag vessels transiting the Bering Sea and North Pacific chose the only drydock facility in far Western Alaska for ship repair and maintenance services.
Recent capital improvements have upgraded Resolve Alaska's unique 1,000 ton-capacity Dutch Harbor facility. Drydock services in 2021 included:
Hull cleaning
Tank and bilge cleaning
Priming and painting
Anode replacements
Steel repairs
Piping repairs
Engine and machinery repairs
Propulsion system repair and alignment
A.W. McAfee, Alaska general manager, said, "Our reputation as a quality service provider is growing. In addition to best-in-class welding services, client demand has led us to expand mechanical services at the shipyard, and demand for 2022 drydock bookings is high." McAfee added, "Our unique waterfront location, a culture of safe work practices, and a growing list of long-term, satisfied clients, bodes well for continued business growth in 2022."
About Us
Resolve Alaska, a unit of Resolve Marine, provides shipyard and marine services, including diving services, for commercial and fishing vessels from its waterfront Dutch Harbor facility, aviation services from Anchorage, and vessel support services from Kodiak. A fleet of tugs, barges, heavy lift and crane equipment support offshore emergency marine, salvage and recovery response and specialty projects throughout the state of Alaska. For more information visit www.resolvealaska.com.
Resolve Marine is a global leader in specialized marine services, including emergency and oil spill response, salvage and recovery, and maritime training. A private company established in 1984 and headquartered in Fort Lauderdale, FL, Resolve Marine has commercial offices, response warehouses and equipment depots located in the United States, Europe, Africa, and Asia. For more information, visit www.resolvemarine.com, call +1.954.764.8700 or follow us on LinkedIn and Twitter and Facebook @resolvemarine.
Media Contact: Jennifer Schlueter, Resolve Marine Brand, Marketing & Communications M +1.908.630.8949 or jschlueter-consultant@resolvemarine.com.