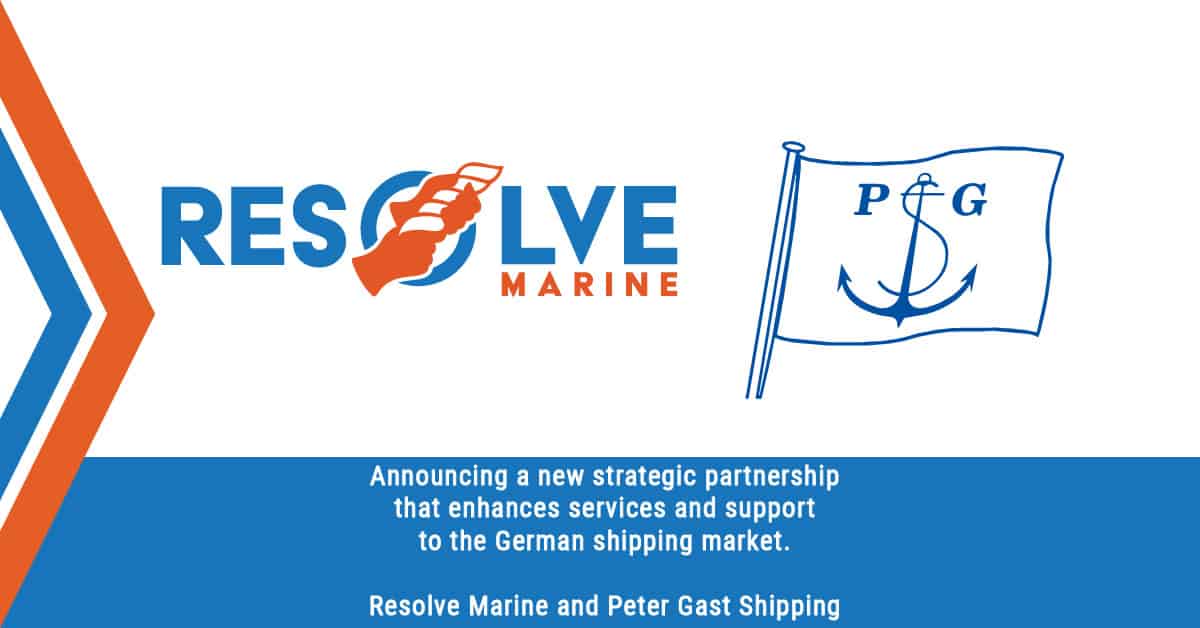 November 2022
November 30, 2022 – London, United Kingdom – Resolve Marine, a global leader in salvage, emergency response, and specialized marine services, today announced a partnership with Peter Gast Shipping GmbH. The combination expands Resolve Marine's relationships with clients in Germany, and in turn, offers value added emergency response and compliance services to the German shipping market.
Based in Hamburg, Germany, Peter Gast Shipping has served the German shipowner and ship operator community for almost 50 years. The cooperation agreement will provide the German Shipping Community with further access and visibility to Resolve Marine's world class compliance and global emergency response services. Resolve Marine is a leading OPA 90 Salvage and Marine Firefighting (SMFF) and Alaska Alternative Planning Criteria (APC) provider under U.S. Coast Guard regulations with manpower, vessel tracking capabilities and owned and maintained equipment ready 24/7.
Joseph Farrell, III, deputy CEO, said "We are excited to partner with the team at Peter Gast who bring a significant network of industry relationships. This is another example of Resolve's commitment to enhancing the service we offer our clients and growth as a leader in compliance and emergency response in the European market. The combination of two highly reputable, family-owned operators means better services and capabilities to solve marine casualties both before and when they arise."
Dieter Gast, MD, said, "Peter Gast Shipping has been involved in salvage for many years. With the announcement of Resolve Marine as our partner, we would like to offer our clients in Germany the best possible service in the field of salvage activities."
# # #
About Resolve Marine
Resolve Marine is a global leader in salvage, emergency response and specialized marine services. A private company established in 1984 and headquartered in Fort Lauderdale, FL, Resolve Marine has commercial offices, response warehouses and equipment depots in the United States, Europe, Africa, and Asia. For more information visit www.resolvemarine.com, call +1.954.764.8700 or follow us on LinkedIn, and Twitter and Facebook @resolvemarine.
About Peter Gast Shipping
PETER GAST SHIPPING are highly specialized ship brokers, who act as important intermediaries for any newbuilding or conversion project and the selling, buying and/or chartering of ships. Representing well-reputed repair yards worldwide, PETER GAST SHIPPING offers a cooperative and reliable global 24-hour service from their office in Hamburg. Established in 1973, the company is a private, second generation run family-owned business led by brothers Christian and Dieter Gast. For more information visit www.pgs.de.
Media Contact: Jennifer Schlueter, Resolve Marine Brand, Marketing & Communications
M +1.908.630.8949 or jschlueter@resolvemarine.com.