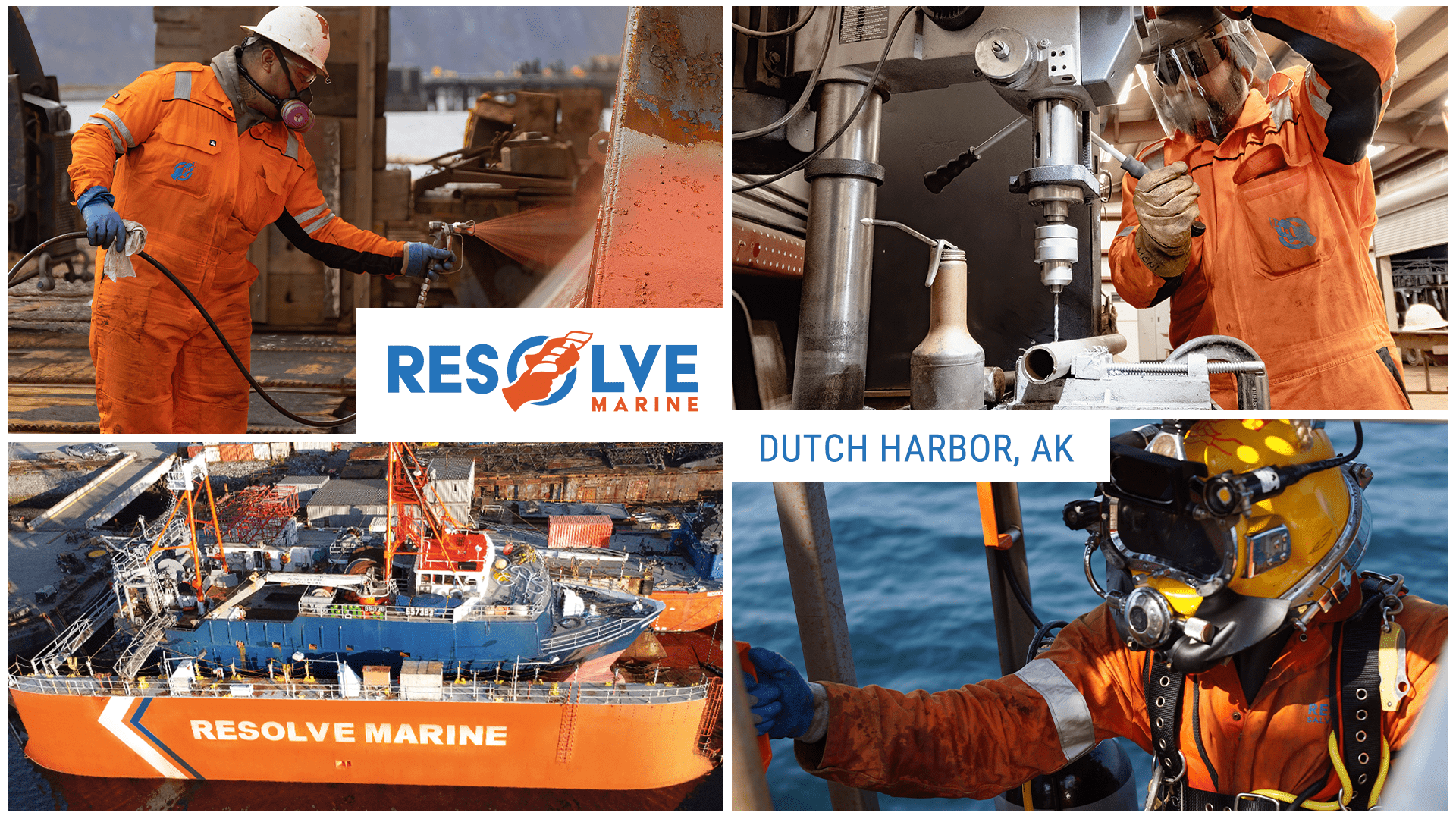 January 2023
January 31, 2023 – Dutch Harbor, AK – Resolve Alaska, the shipyard, marine construction, emergency response and aviation subsidiary of Resolve Marine, today announced that services provided to commercial and fishing fleets in Western Alaska and the Pacific Northwest grew more than 40% year over year. Client retention was 100% and 10 new clients were added. Capital improvements, the acquisition of MAC Enterprises and the addition of five skilled technicians and commercial divers underscored business growth and client satisfaction. Resolve Marine's Dutch Harbor operation is the only drydock facility in far Western Alaska.
> 13 drydocks were completed, up 17% from 2021.
> Marine construction and general shipyard services increased 32%. Machining, welding and fabrication, sandblasting and painting, commercial diving and underwater welding were in high demand. A job in Egegik, AK involved salvaging a crane used to move commercial fishing vessels that caused a dock to collapse and using a crane barge to support drilling operations for an upcoming dredging project for the Army Corps of Engineers.
> Vessel charter and boat watch services were added following the MAC Enterprises acquisition in May 2022. A fleet of small and large boats, cranes and spud barges moved supplies, freight and personnel and supported government research and filming crews in Dutch Harbor and the Aleutian Islands.
> Emergency response and salvage included environmental response and remediation, emergency towing and wreck removal.
A.W. McAfee, Alaska General Manager, said, "Resolve Marine's reputation as a provider of reliable, quality services has never been higher and our ability to meet demand from current and new clients with a broad range of services has resulted in strong business growth. We price competitively and our safety record is strong."
Regularly ranked the nation's top commercial fishing port by volume of seafood landed, Dutch Harbor is a major economic engine underpinning the seafood industry of Alaska and the United States.
# # #
About Us
Resolve Alaska, a unit of Resolve Marine, provides shipyard and marine services, including diving services, for commercial and fishing vessels from its waterfront Dutch Harbor facility, aviation services from Anchorage, and vessel support services from Kodiak. A fleet of tugs, barges, heavy lift and crane equipment support offshore emergency marine, salvage and recovery response and specialty projects throughout the state of Alaska. For more information visit www.resolvealaska.com.
Resolve Marine is a global leader in specialized marine services, including emergency and oil spill response, salvage and recovery, and maritime training. A private company established in 1984 and headquartered in Fort Lauderdale, FL, Resolve Marine has commercial offices, response warehouses and equipment depots located in the United States, Europe, Africa, and Asia. For more information, visit www.resolvemarine.com, call +1.954.764.8700 or follow us on LinkedIn and Twitter and Facebook @resolvemarine.
Media Contact: Jennifer Schlueter, Resolve Marine Brand, Marketing & Communications
M +1.908.630.8949 or jschlueter@resolvemarine.com.